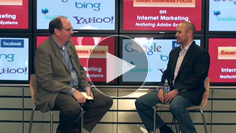 Producer's Note: Last January, Bauer Business Focus debuted on KUHF as a weekly radio segment featuring faculty and business experts from a wide range of industries discussing everyday to paramount business issues. Subsequently in the spirit of the radio segment, UH Bauer College inaugurates a web video version and companion to expand Bauer Business Focus. These web broadcasts capture engaging conversations held over the semester with business experts who come to Melcher Hall and bring an industry-specific focus area perspective. We are glad to feature this new version of Bauer Business Focus on mybauerpride.com.
Executive Professor Steven Koch has scheduled regular talks with Internet marketing experts about what they do and where this fast-changing field is headed. Starting in the fall semester, Koch, also director of the Business Consulting Lab at the UH Bauer College of Business, began offering a graduate level course on Internet Marketing.
In Internet analytics, ROI and commerce, universe, art and science are colliding, and Eddie Ramirez is working at ground zero.
The engagement manager for Adobe Systems Omniture Business Unit advises big companies like Travelocity and Dell on how to use the company's software tools to get an ever better understanding of who their customers are, what they want and what moves them to act.
Ramirez sees these web analytics tools from Adobe and others setting off a fundamental change in how companies make decisions.
"At the end of the day you your ideas have to prove their worth," Ramirez said during the inaugural Bauer Business Focus on Internet Marketing with Koch, who brought in Ramirez to speak to his MBA Internet Marketing students. The class will use a version of Adobe SiteCatalyst software to learn how companies gather and analyze consumer data.
A decade ago the information available about what customers were doing on corporate web sites was sketchy at best. Ramirez, who'd majored in electrical engineering in college, was then helping big companies create and operate web sites.
"People would ask, 'how is it working?' and I'd say, 'I don't know,' " Ramirez said.
Since then he's been able to offer progressively better answers to the question, with software able to analyze the growing flood of data. The nature of this information has grown more personal as Facebook and other social networking sites have pushed the bounds of information gathering.
The results these tools – known as web analytics – can challenge a company's decision making process.
"Our customers are telling us to do this. So do we listen to our customers, or to the highest paid executive in the room?" Ramirez asked. These companies still try things based on the gut instincts of savvy marketers, but "if you want to do something based on your gut, go test it out. The customer will decide."
The new tools are changing the jobs of many workers. Ramirez said he has observed situations where there's a divide between those in the creative end of the online universe, who increasingly need to pay greater attention to the numbers, and the number crunchers, who need to better understand what creative efforts are most effective.
The blurring of the lines is evident in Koch's class, where Ramirez spoke. The background of the 44 students in the graduate level course covers marketing, communications and engineering.
Companies like Travelocity are relying on improved web analytics to reach out to potential customers with travel options increasingly tailored to their interests and budget.
Over time, Ramirez says this will mean, "You can have more targeted and relevant ads wherever you go."