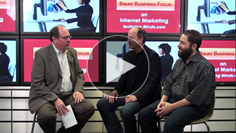 Producer's Note: Last January, Bauer Business Focus debuted on KUHF as a weekly radio segment featuring faculty and business experts from a wide range of industries discussing everyday to paramount business issues. Subsequently in the spirit of the radio segment, UH Bauer College inaugurates a web video version and companion to expand Bauer Business Focus. These web broadcasts capture engaging conversations held over the semester with business experts who come to Melcher Hall and bring an industry-specific focus area perspective. We are glad to feature this new version of Bauer Business Focus on mybauerpride.com.
Blinds.com is a technically sophisticated online retailer that's become the biggest in its business online with a focus on the values of the people who work there, and the things that please customers and make them want to come back.
Jay Steinfeld, the founder and CEO of Blinds.com, talked with Prof. Steven Koch about how the Houston company has done those things.
When asked the question — what is the company's secret to success? — Steinfeld said he has offered a variety of answers because selling window coverings over the Internet requires doing a lot of things well.
"There's not one thing where we are 100 percent better, but hundreds of things where we are a little better," Steinfeld said.
Blinds.com is constantly looking for ways to make buying custom blinds on the website "a no brainer." Steinfeld said when he created the website the goal was to match the steps people were familiar with when shopping in traditional settings.
The company continues to experiment with all sorts of advertising outlets to reach customers. But the biggest return on investment has come from improving the experience for customers so they'll come back and recommend it to others.
"If you are spending money on marketing versus improving the experience, the ROI is a thousand times better if you can improve the experience," said Daniel Cotlar, chief marketing officer for Blinds.com.
For Steinfeld, a major factor in the explosive growth of the company has been the initiative of the approximately 100 people who work there. Eight years ago, he took time to reflect on what values really matter to him in business. Then Steinfeld put those ideas into action by hiring similarly motivated people and creating an atmosphere where they could make a difference.
"The key is to make people feel empowered, and feel they play an important role in the business because they really are important," Steinfeld said. "We want people to experiment without fear. We are willing to take chances without betting the farm."
Their advice to college students interested in this field is along those lines. Steinfeld said a lot of people in school don't know what they really want to do anyway, so it's wise to try a variety of things.
Cotlar said anyone thinking about web commerce needs to try doing it — even if it's just selling some things on eBay. "People need to do it and see if that is something that they are really passionate about."