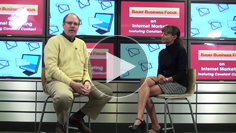 Producer's Note: Last January, Bauer Business Focus debuted on KUHF as a weekly radio segment featuring faculty and business experts from a wide range of industries discussing everyday to paramount business issues. Subsequently in the spirit of the radio segment, UH Bauer College inaugurates a web video version and companion to expand Bauer Business Focus. These web broadcasts capture engaging conversations held over the semester with business experts who come to Melcher Hall and bring an industry-specific focus area perspective. We are glad to feature this new version of Bauer Business Focus on mybauerpride.com.
Amy E. Tinsley's job is to teach small businesses and organizations how to reach out to customers and prospects by effectively using email and social media marketing.
Tinsley, the regional development director for Constant Contact, spoke to Prof. Steven Koch about what it takes to successfully market online. A recent survey of U.S. small business owners, she said, ranked email marketing second, just underneath having a website, as an important marketing tool for their business.
"Something that's constant is communicating via email with customers and prospects," she said. "Now we are also seeing an increase in interest in mobile marketing, but only time will tell whether that will be a successful marketing tool for small businesses."
Constant Contact facilitates online marketing for more than 400,000 customers and offers customer support and learning resources on their website, by phone, email and online chat.
Tinsley said anyone doing email marketing needs to ask themselves before sending each email — would a customer want to get this message?
"Content is everything. Is the content of your communication going to be appreciated and valued by the recipient?," she added.
Value can be in the form of answering customer questions, providing thoughtful insight about your product or services, industry statistics, helpful resources and timely advice, Tinsley said.
The impact can be magnified by adding a social media share button in all email communication, making it a simple one-click for email recipients to share a message on Facebook, Twitter, LinkedIn or other popular social media sites.
"On Facebook the average person has 130 connections," Tinsley said. "If one person posts your email on their Facebook page, you could potentially share you message with an additional 130 people!"
A student who wants to get into this business needs to start by following the experts and using the tools for email marketing/social media marketing, she added.
"You might also want to hone in on your presentation skills," Tinsley said. "You'll definitely be asked to share what you know!"