This Sunday, March 3, marks what would be Charles T. "Ted" Bauer's 100th birthday. Our benefactor gave a transformational $40 million gift to name the college in 2001 and has gone on to impact the lives of countless students, faculty, staff, alumni and members of the business community.
Today, we honor the legacy left by Mr. Bauer by sharing a few thoughts from students and alumni. #Bauer100
'The vast potential'
"I'm most inspired by how Ted Bauer recognized the vast potential of UH's business students. He chose to give $40 million dollars to a school that he did not have a personal connection to, because he saw how hard our students, faculty, and staff worked, and he wanted to provide the support we needed to achieve even greater success. In my future career as Dr. Sundar, I hope to emulate Mr. Bauer by always pushing my students to reach their full potential and providing them with the support they need to do so."

–Sarayu Sundar (BBA '11, M.Ed '14), Ph.D. Candidate, UCLA
'The power of our school'
"Ted Bauer has inspired me and so many to be bold, and to eschew the mundane – his words, not mine – and every moment I had at Bauer was testament to pushing myself out of my comfort zone. This stems from the belief he and so many had about the power of our school – from the leadership programs, to classes under incredible professors, to recruiting and networking and the passion and drive of the student body."
–Noha Sahnoune (BBA '15, MSACCY '16), Corporate Financial Analyst, ExxonMobil
'He saw something he believed in'
"To me, Ted Bauer is the largest individual personal sponsor of Bauer, or maybe even the entire university (I'm not sure). And the truth is that I don't know a lot about Ted Bauer beyond the generosity of his $40M donation. Which makes me like many Bauer students, who have not studied his background. However, this piece of information in itself is enough to inspire anyone. Dig deeper. Ted Bauer didn't just give millions of dollars to the school. He saw something he believed in and didn't just leave his approval to words; Ted Bauer took action! When you believe in something, don't just think it… prove it!"
–Hava Schultz, marketing senior
'He has inspired me'
"Ted Bauer has inspired me on so many levels. From giving back to the Business school, as well as providing multiple scholarships to students to assist with their futures. I am honored to have been one of the recipients of the Ted Bauer Undergraduate Scholarship and can say that because of Ted Bauer, I have been able to easily develop myself personally and professionally without having an economic barrier. Overall, he has inspired me to hopefully one day give back to the Bauer College of Business."
-Sobia Mohammad, marketing sophomore
---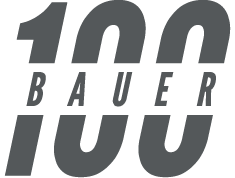 This year, we honor what would be Charles T. "Ted" Bauer's 100th birthday.
---